Line Isolation Monitor

We represent the superior, best-in-class Line Isolation Monitors (LIMs) and accessories from Bender Medical Products.
Our experience with this product line spans many years as well as several generations of designs. The Bender LIMs have been the most reliable and accurate LIMs we encounter at our customer sites – and we see them all!
LIM2010
Digital line isolation monitor for isolated power systems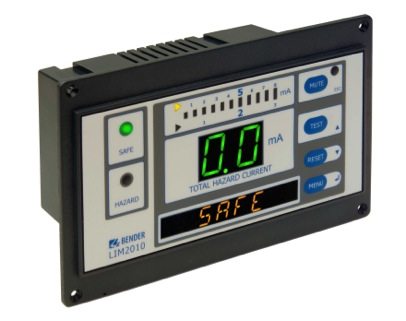 The LIM2010 line isolation monitor (LIM) measures the total hazard current (THC) in an isolated power system. The LIM2010 is a full-featured device which includes a seven-segment display, digital display, and easy-to-read LED bar graph, connection monitoring, and compatibility with BENDER's ground fault location system and communication network. The LIM2010 may be configured for additional alarms, including transformer overload and overtemperature, overvoltage and undervoltage, and more. The LIM2010 has an automatic self-calibration and self-check feature. Multiple LIM2010 devices may also be controlled by a single, intellgent remote station. The LIM2010 is intended for use as part of an isolated power system that conforms with the applicable requirements of ANSI/NFPA 99, ANSI/NFPA 70, and CAN/CSA-C22.2 No. 29-M1989.